When attending a wedding, it is important to dress appropriately and stylishly. It can be a daunting task to choose the perfect dress that strikes the right balance between chic and formal. However, with a plethora of stylish designs available, finding the perfect dress for a wedding has never been easier. Here are some chic dress options that are sure to turn heads at any wedding.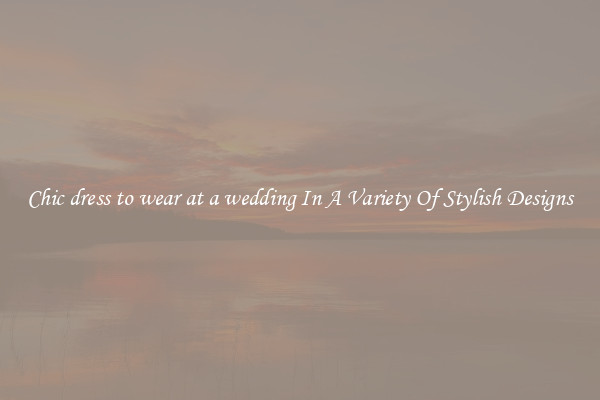 One classic option is the little black dress. This timeless piece exudes elegance and sophistication. It can be dressed up with statement accessories, such as a bold necklace or statement earrings, to add a touch of glamour. The little black dress is a versatile choice that can be worn to both daytime and evening weddings, making it a staple in any wardrobe.
For a more vibrant and eye-catching look, consider opting for a brightly colored dress. Bold colors, such as red, fuchsia, or emerald green, can make a statement and show off your personality. Pair your colorful dress with neutral accessories to let the dress take center stage. This chic dress choice will definitely make you stand out from the crowd.
If you prefer a more romantic and feminine look, a floral dress is an excellent choice. Flowers are perfect for a wedding, symbolizing love and joy. Delicate floral prints in pastel hues are ideal for a spring or summer wedding. To add a touch of sophistication to your outfit, opt for a dress with an A-line silhouette or a flowing maxi dress. Pair it with strappy sandals or wedges for a complete look.
A jumpsuit is an alternative option for those who want to break away from the traditional dress silhouette. Jumpsuits are chic, comfortable, and modern, making them a popular choice for weddings. Opt for a jumpsuit in a luxe fabric, such as silk or satin, for a more elevated look. Style it with statement heels and a clutch to complete the ensemble.
Lace is a fabric that exudes elegance and grace. A lace dress is a perfect choice for a formal wedding. Whether it is a fitted pencil dress or a flowing gown, lace adds a touch of sophistication and romance to any outfit. Pair it with delicate jewelry and a clutch for a timeless and chic look.
In conclusion, finding a chic dress to wear at a wedding is all about finding a balance between style and formality. Whether you opt for a little black dress, a brightly colored dress, a floral dress, a jumpsuit, or a lace dress, there are plenty of stylish designs to choose from. Remember to accessorize accordingly and feel confident in your choice. With the right dress, you are sure to turn heads and make a lasting impression at any wedding.